SIDE DOOR SAM PRODUCTIONS ANNOUNCES A NEW ALBUM BY JIM WURSTER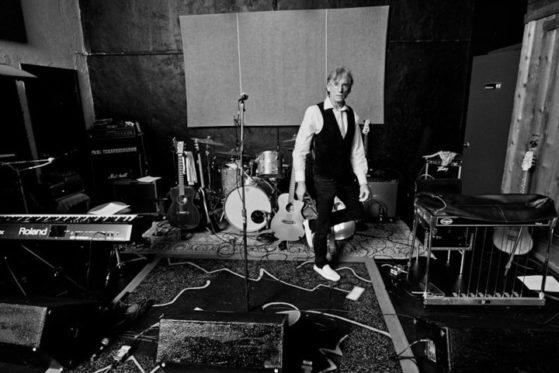 Created, produced, and supported by homegrown Florida talent, Jim Wurster's 16th album of original music, 'No Joke,' mines the territory that has become familiar to his American and European fans. Government gone astray, love- both dark and seductive, and lives lost too soon, are topics that have dominated his prolific songwriting career. While his signature vocals croon of passion, hurt, and resolve, his words describe his struggle to make sense of it all.
Wurster's new studio album, 'No Joke,' was the result of musician Vinnie Fontana's long time admiration for Jim as an original artist and the contributions of accomplished SOFL musicians, vocalists, producers, artists, and photographers. Fontana has known Jim since the beginning of Wurster's distinguished song-writing career, "I was always interested in listening to Jim's music and realized what a great songwriter he was, so I asked him if he would be willing to have me produce some tracks for him. After I listened to the raw versions of the songs, I tried to imagine who would be the right players." Vinnie, a renowned blues and rock player in his own right, brought in virtuoso musicians like guitarist Jimi Fiano, and drummer Guido Marciano (who also engineered many of the songs). "The three of us have worked in recording together for many years." Along with the three longtime friends, Atomic Cowboys members Bob Wlos and Frank Binger, Black Janet's George Zhen, and a host of other musical wizards rounded out the guest players. Jim's ethereal sound is represented by vocalists Karen Feldner, Trish Sheldon, Daphna Rose, Alyssa McDoom, and Omine. Not only was the album a SOFL musician extravaganza, but the artwork (Nicole Arrieta), photography (Teejay Smith, Robert Stolpe), additional recording (Phil Bithel), and mastering (Adam Matza's Magic Ear) were all done by South Florida professionals.
Though Wurster's sound has changed through the years, it has always kept him in the top tier of accomplished songwriters. His early works with Black Janet earned the band a Jammy Award, a Florida Rock award, cover stories in the Miami Herald and Sun-Sentinel, and extensive play at college radio. Jim's current band, the Atomic Cowboys, has delivered Jim's stripped down American roots rock on stage, for over 10 years. The group features pedal steel player and producer Bob Wlos, rhythm section Frank Binger and Dave Thompson, and guitarist Bill Brock.
In 2011, with over 100 songs to his credit, Wurster's edgy Americana sound drew the attention of Fake Four Records. The indie label had kick-started the careers of several alternative folk and hip-hop bands. Fake Four released 'Hired Hand,' a collaboration between Jim and his label mate, (and stepson) Skyrider, and the band toured the West Coast and made the year's top releases at Amoeba Records.
Jim's last release, 2014's 'RAW,' received extensive airplay in Europe, including adds on 28 radio playlists in 13 countries, and 13 record reviews. For 'RAW,' Wurster and Wlos produced a stripped down, but amped up musical enigma, that earned accolades from U.S. Americana bible No Depression, and stellar reviews in Germany's Country Jukebox Magazine, French Magazine Le Cri du Coyote, and UK mag Blues Matters among many others. The album was played on European radio in the UK, Dublin, Scandanavia, Germany, and more.